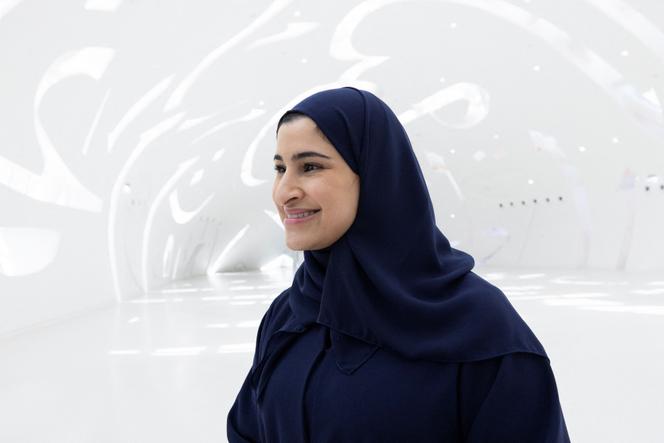 To date, no woman has led NASA. Or the European Space Agency (ESA). Or the National Center for Space Studies (CNES) in France. Or Roscosmos in Russia. Traversing the heads of these agencies for more than two decades, we've drawn the composite portrait of a man in a suit and tie, sometimes in his forties but mostly in his fifties or sixties, and sort of always white (with the exception). notably by Charles Bolden, the only African American to hold the post of administrator of NASA under Barack Obama's mandates). So if the opportunity arises to meet Sarah Al-Amiri, 35, President of the very young United Arab Emirates Space Agency and Minister for Advanced Technologies, we do not miss her, we want to know who is this young woman who stands out in the world of space.
Forget the suit and tie, of course. With no bodyguard, the minister arrives at the meeting in a black hijab and matching abaya – the long Emirati tunic – and a big smile crosses her face. Perhaps because self-promotion isn't really encouraged in a federation of emirates that glorifies sheikhs, this Abu Dhabi native remains discreet, even humble, about her career. In her perfect English with an American accent, she is not afraid to talk about the beginnings of her childhood. A family where the father is a businessman and the mother is a teacher, an international school that opens him to other cultures. "I grew up speaking about politics, economic changes and world developments. I think as a kid I watched more news than cartoons, she remembers, almost giggling. I understood that we all play a role in society. Not just in our neighborhood, in our city or in our country, but as citizens of the world. »
Sarah Al-Amiri sees her role in a country made possible by petrodollars, which is modernizing at breakneck speed, primarily in IT: "I've always loved math and numbers, She says. I started programming when I was 11 or 12 years old. Although the programs were very simple at the time, it quickly became clear to me that I wanted to become a computer scientist. » This is followed by studies at the American University of the Emirates of Chardja. Shortly after receiving it, it lands quickly in the space industry, which has always fascinated her. We are in 2009, she is 22 years old. The United Arab Emirates (UAE) does not yet have a space agency (it will be officially established in 2014). They, who already operate a few satellites but have never developed one, are preparing to launch their first Earth observation vehicle, DubaiSat-1. "The people who worked with me were 26 years old or younger. Almost all were hired at the end of their studies. »
You still have 63.9% of this article to read. The following is for subscribers only.